Last Updated on November 20, 2023
With the Chinese market heavily dominated by internet users, online video content has become an essential marketing tool for brands attempting to connect with more local consumers.
The popularity of this content format also led to the rise of Chinese video-streaming platforms in Mainland China. Over the past decade, it opened a new opportunity for local and foreign businesses to actively engage with the Chinese audience.
Read along as we discuss the largest online video platforms in the Chinese market and how marketers can utilize them.
Chinese Online Video Market Overview
According to the recent Statista report, over 1 billion local internet users have watched online videos in China. Domestic video platforms have seen a tremendous increase in Chinese audiences over the years, with an average user spending about 241 minutes daily streaming video content.
Number of Chinese video platform users H1 2018-H1 2023 (Source: Statista)
Like social media channels, many Western video platforms are not accessible in China due to the censorship implemented by the Chinese government.
However, that does not mean that Chinese consumers are deprived of their own video hosting services. China's most popular streaming platforms are typically from local tech giants like iQiyi and Youkou.
How Can Chinese Video Streaming Platforms Help Your Brand?
Advertising Campaigns
Besides social media platforms, video streaming sites in China offer different advertising options that foreign companies can use to achieve their marketing objectives. The ad formats marketers can select for promotional campaigns depend on their chosen platform, but the choices can range from interactive media banners and paused ads to short video carousels.
Example of an ad on iQIYI redirecting to Addidas Taobao store
Professional & User Generated Content
As you know, most video streaming platforms in China have a large user base. So, an excellent strategy to maximize their reach is through collaborative content production directly with the video hosting service or an internet television company.
There are over 884 million digital shoppers in China, with purchasing decisions easily swayed by content uploaded on short video apps and live-streaming platforms by industry professionals or other users. If a massive video content production isn't in your budget, opting for Chinese streaming platforms that allow user-generated content is another alternative to gain traction in the market.
Video Content Marketing Strategy
If brands seek out younger audiences, establishing a presence on popular online video platforms could be a worthwhile investment.
On top of posting short videos on these Chinese streaming platforms, companies can address questions and inquiries about their products through user comments or live streaming features.

Example of brand content and user-generated content on Bilibili (Source: BeautyMatter)
Releasing brand messaging and advertising content through these video platforms must be done carefully. Although Chinese viewers in this market aren't resistant to branded promotions, your campaigns must be creative enough to resonate with your intended audience.
You must also ensure that the content you're releasing follows the industry trends so that it can generate maximum traction within the Chinese market.
However, remember that not all top Chinese streaming services have the features marketers can utilize to upload promotional campaigns, as most have shifted to producing original content.
5 Leading Online Video Platforms in China
1.   iQiyi
Having been founded by the Chinese tech giant Baidu, iQiyi stands as one of the best Chinese streaming platforms offering high-quality video content to entertain consumers. It's often dubbed the Netflix of China, especially with its 530 million monthly active users.
Besides movies and TV shows, Chinese consumers also use this video-hosting platform to watch sports-related content or news.
It became an important video platform among businesses because of its varied advertising options. Although it doesn't allow direct uploading of content, marketers can decide to launch promotions via in-feed ads, opening screens, carousel banners, paused ads, and many more.
2.   Youku-Tudou
The 2012 merger between China's two biggest online video streaming websites at the time, Youku-Tudou, was acquired by Alibaba Group at the end of 2015 to access an even larger user base, add to its growing portfolio of media interests and strengthen its already dominant position in the Chinese digital industry.
Youku maintains its spot as one of the most popular Chinese streaming services, with a high Chinese audience reach of 421 million active users in 2022. Although the platform became popular for its user-generated content creation features, it shifted its focus to original production.
Nevertheless, Youku Todou is still an excellent addition to your digital marketing strategy, mainly because the platform has a wide range of short video and banner ads suitable for marketing and advertising purposes.
3.   Tencent Video
Tencent Video is among the largest Chinese streaming platforms, with its monthly subscription service reaching 120 million users.
Unlike other Chinese streaming platforms that thrive in producing original online dramas, Tencent Video is also known for getting streaming rights for foreign films, TV shows, and sports broadcasts. It also focuses on reality shows and ACG-related content.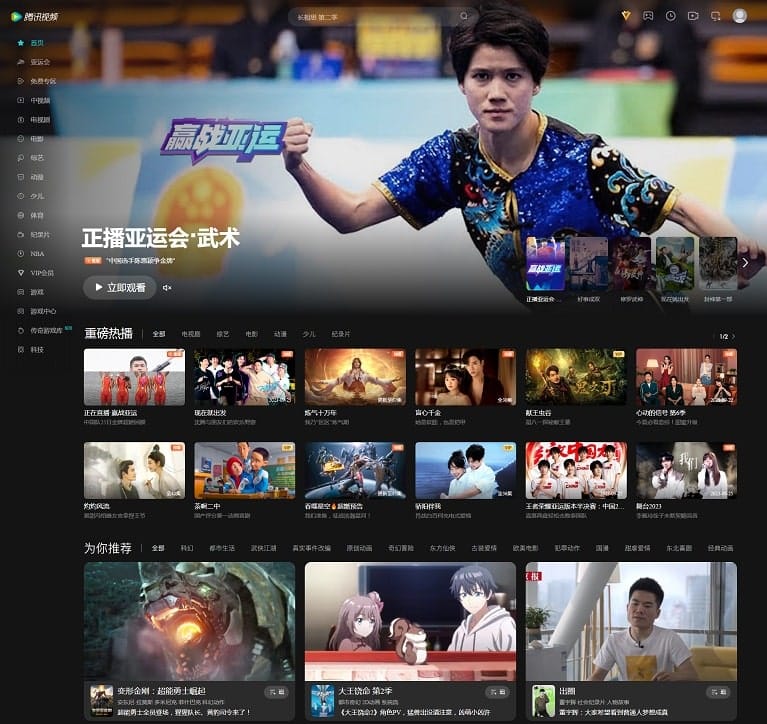 Among video hosting services in China, Tencent Video is also one of the few Chinese platforms that has co-produced international content with foreign companies like BBC.
Most Tencent Video users are young adults and teenagers passionate about video content. So, if you're brand wants to reach this type of local demographic, you can use their offered ad formats according to your allocated budget.
Tencent Video allows ad content to appear as a splash screen upon opening the app or switching pages, as short videos before the media starts playing, or as product promotions on the recommendations tab.
4.   Le.com (formerly LeTV.com)
LeTv.com, commonly referred to as Le.com, was founded in 2004 and is a subsidiary of LeEco, a leading online video-centric hardware and software company. LeTV was one of the first Chinese online video companies to purchase TV show rights to provide users with exclusive content.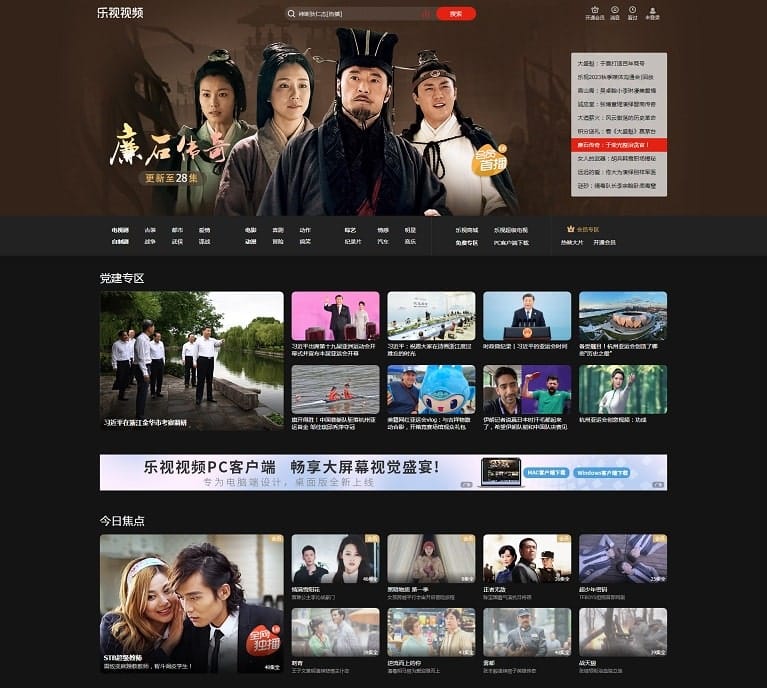 While it's not as massive as other Chinese streaming platforms, LeTV offers various home entertainment content, from more than 100,000 episodes of TV dramas and 5,000 film titles to different variety shows.
However, what truly sets LeTV apart is the integration of industry-related videos into its platform. Users can watch different media about cars, science and technology, or even cooking tutorials.
5.   Bilibili
As a newcomer in the China market, Bilibili is more similar to popular short video platforms than the other streaming apps we discussed. Given its UGC-dominated interface, local users and industry professionals often dub it Chinese YouTube after Youku shifted to traditional video hosting.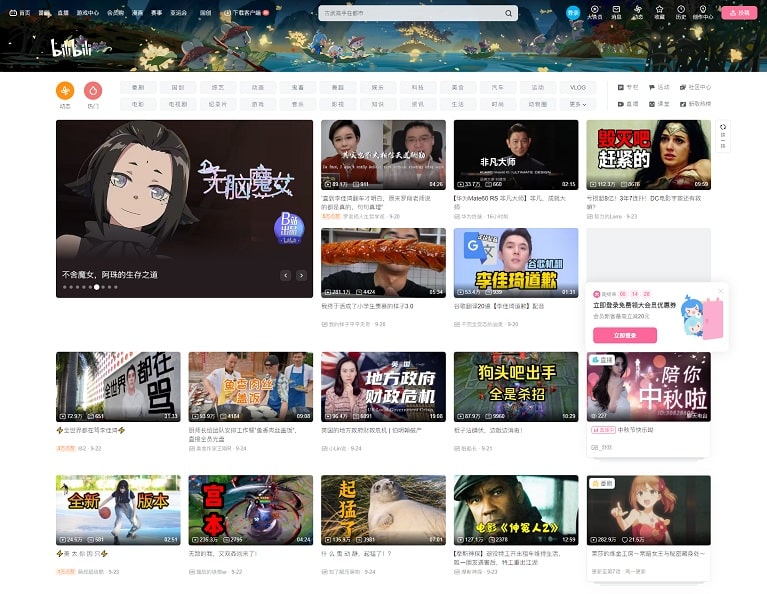 As of the first quarter of 2023, this Chinese video platform has garnered around 315 million monthly active users. It fosters platform engagement by allowing accounts to post comments in real time, which leads to the production of more viral videos for users to enjoy.
Besides long-form and short-form videos, the platform allows live-streaming content and produces fully licensed media, from documentaries to animated shows.
Its popularity as a video streaming website has led major foreign brands like Dior, Chanel, and Estée Lauder to launch marketing campaigns on the platform. Some of these international companies have an official account on Bilibili dedicated to posting marketing content.
Dior official account on Bilibili
Other Video Streaming Platforms for Short-form Content
While it's true that Chinese consumers seek high-quality content, no one can deny that the modern digital landscape favors short-form over long-form video productions. This trend is something foreign brands must take note of, especially if they intend to reach a broader audience in China.
Here are other video streaming channels you can consider:
Douyin
With approximately 730 million users using its services, Douyin is undoubtedly China's largest short video platform. Having experienced global popularity as Tiktok, the app is no stranger to foreign brands promoting using its features.
Live streaming on Douyin
Douyin is also a UGC-dominated platform, giving businesses an easier route to connect and engage with their target audiences. Marketers can also leverage its live-streaming functions to build more buzz around the brand, primarily because 765 million users in China prefer this content format.
On top of that, Douyin boasts many reliable influencers and industry experts with massive fan bases. Brands can tap into specific target markets by launching KOL collaborations like genuine product reviews that many digital shoppers in China seek nowadays.
Kuaishou
Although not as globally known as Douyin/Tiktok, Kuaishou has amassed over 355 million daily active users over the past few years. It also works as a great marketing tool alternative, seeing how its reach is more concentrated in lower-tier cities and towns.
Short-videos and live streaming on Kuaishou
Like Douyin, this platform's primary functions involve short video and live-stream content. However, unlike its rival, Kuaishou's marketing campaigns should focus on Millenials aged between 25 and 44 since this demographic is its highest user base.
It also features an e-commerce integration that marketers can utilize for different marketing goals and drive higher brand sales.
The Evolution Of Chinese Streaming Platforms
Transition to paid subscribers
As you have already noticed, many of China's video streaming platforms are slowly transitioning from ads-based models to paid subscription services. The display-ad business model is reaching its saturation point, with the number of new users starting to stabilize over the past decade.
Seeing as impression-based advertising revenues increase when more users visit the website and stagnate or decrease when they don't, China's major video platform players knew they had to diversify their revenue structure to survive the long business game.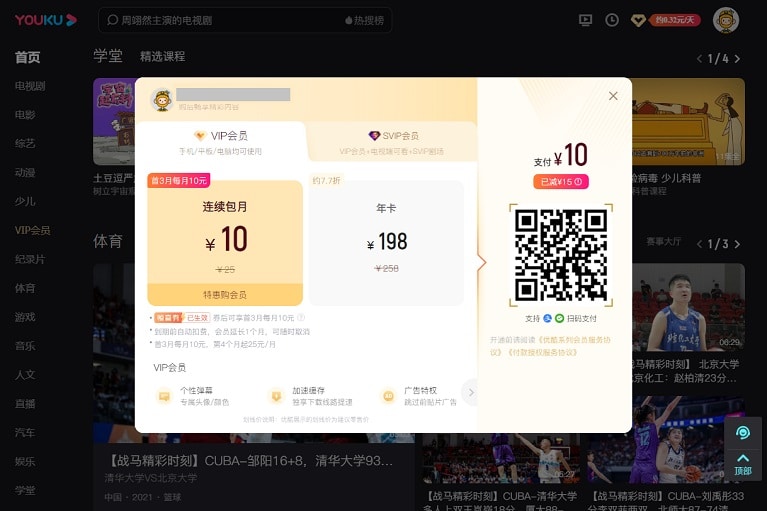 VIP Membership fees on Youku
The big companies, therefore, set on replacing yesterday's advertising revenues with income related to user-facing offerings such as premium subscriptions. They encourage users to sign up for VIP membership for an added value service.
The market's major players have tried different approaches, but adding paywalls to selected new releases has been the most widespread. However, as anyone would imagine, no one would pay to watch online media if said media was available elsewhere for free.
Transition to self-produced content
After being one of the first companies to purchase TV show rights to provide users with exclusive content, LeTV continued to set the pace in the industry by announcing that 70% of their new releases would be self-produced or co-produced.
Youku and Tudou began making original content years ago, but what characterizes this new wave of self-production is the fact that the market's biggest players, including Tencent, Youku-Tudou, iQiyi and LeTV, have all established their own production companies, knowing their self-produced content will be cheaper to possess and easier to monetize (selling adaptation rights or licensing rights etc.).
The shift towards self-produced content has impacted online video trends and encouraged market players to expand their businesses and search for new financial opportunities.
Your Digital Marketing Partner In China!
Choosing the right Chinese video platform to collaborate with and utilize for your marketing campaigns can be challenging, especially with many major market players to choose from. These apps have different target audiences and features that only local experts can understand and navigate.
At Sekkei Digital Group, we understand the subtleties inherent to the Chinese video market – including consumer behaviors and the ever-evolving trends that shape it. With our extensive expertise in this niche, we offer you the avenue to unlock your brand's potential and secure a formidable position as a leading entity in the industry.
We offer comprehensive services to empower your marketing strategies in China. From crafting compelling ad campaigns to harnessing the power of search engine platforms and social media channels, we provide the digital solutions you need to thrive. Contact us today to learn more!
References:
6 Chinese Streaming Platforms to Amplify Your Business
Chinese streaming platforms
Fundamentals of Tencent Video Marketing
How Luxury and Fashion Brands Can Better Leverage Bilibili in China