Last Updated on November 6, 2023
When it comes to Chinese e-commerce, the first thing that often comes to mind is popular local platforms like Tmall, JD.com, or Little Red Book. But did you know that there's another market that can help you connect with consumers in China?
According to 2022 market data, Pinduoduo surpassed JD.com as the second-largest Chinese e-commerce platform. With over 751.3 million monthly active users engaged in online shopping, it's only natural for global product managers like you to develop an interest in the app.
Read along as we share insights on why you should utilize Pinduoduo for your local e-commerce business goals and guide you on how to navigate the app, from account creation to launching digital marketing campaigns.
What does Pinduoduo do?
Founded in 2015, Pinduoduo (PDD) is a social e-commerce app that allows consumers to find product deals with the added value of recruiting friends and family to join in and buy at a discounted price. It also allows customers to purchase through popular social media apps in China, such as WeChat and QQ.
PDD pioneered the concept of mixing online shopping with social media interaction between sellers and their consumer base. The bold business decision of the company has led China to quicken the transition of the country's commerce sector from offline to online.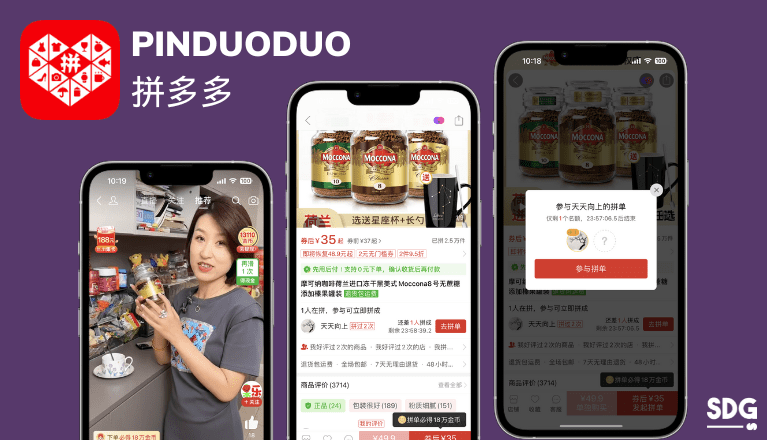 The advantage of PDD over other social commerce channels in the country is its consumer-oriented approach. It offers products at up to 20% cheaper compared to their market price by letting users directly purchase from manufacturers.
Through this, brands can remove the hassle and additional costs of using a middleman. It also enhances the consumer journey by adding gaming elements and giving out coupons and rewards.
What products are typically sold on Pinduoduo?
Pinduoduo's focus used to be on agricultural goods. In fact, according to statistical data in 2019, approximately 600,000 merchants shipped fresh produce around China.
Now, the platform covers major product categories. The purchases users can make include apparel, mother and childcare products, food and beverage, cosmetics and other personal care items, sports and fitness items, as well as auto accessories.
Who is the target market of Pinduoduo?
When it was first launched in China, Pinduoduo users were predominantly female. However, over the years, the purchases from the local male demographic have increased.
If you look at the data in the graph below, it's easy to see that the users have evened out between the two genders. In 2022, the male demographic has covered 51.8% of overall users in the platform, while the female user base gets 48.2%.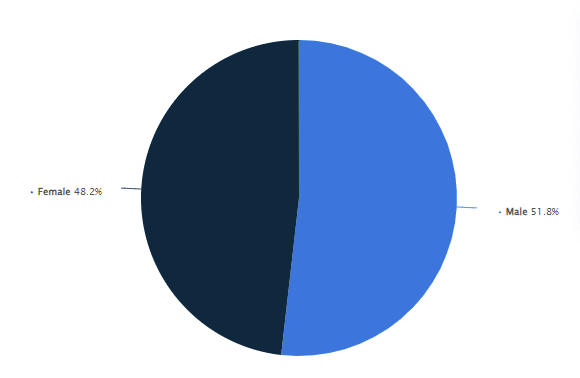 Share of Pinduoduo user group in China 2022 by gender (Source: Statista)
Although brands in PDD still produce a sufficient amount of interest among young online shoppers in China, most purchased and shipped items are directed to the older demographic. According to the 2020 market data, the two dominating age groups in the app are people between 36 and 45 years old or 46 and higher.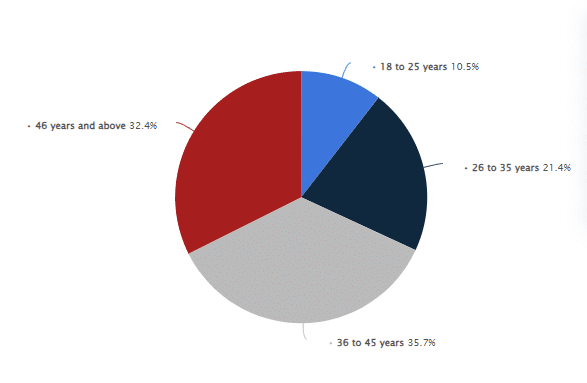 Share of Pinduoduo user group in China 2020 by age group (Source: Statista)
Since the app continues to address the needs of customers wanting to save money, its offerings match the preferences of lower-tier cities. Over 36% of users in the app's system reside in fourth and fifth tiers or below. This demographic data clearly shows that Pinduoduo's user base comes from rural areas with moderate to low cost of living.
How do I sign up for Pinduoduo?
●     Install and Download the App on Your Phone
Although Pinduoduo recently launched a website for its e-commerce system, the fastest way to access it is through downloading its app. Because of recent issues about security, you can't download it from Apple's App Store or Google Play Store.
If you want to access it, you can directly download the app files from the platform's website.
Source: Pinduoduo's Download Page
●     Choose a Sign-up Method
After downloading and installing, users must provide details manually or choose other login methods. They can connect the app to their WeChat profile or give a mobile number for registration.
●     Register & Verify Your Phone Number
If you choose the phone number registration, you must verify your account creation through an OTP code. Once you receive it, all you need to do is type it on the form, and your profile is ready to go.
Best Pinduoduo Features Every Merchant Must Know
1.   Pinduoduo's Group Buying Concept
The core function of Pinduoduo is the ability to make group purchases. Consumers can share product details with family and friends to form a shopping team and enjoy a more attractive price option.
PDD often highlights the perks under the "team purchase" option. However, buyers can also utilize the official individual pricing. All products ordered by a certain group are deliverable separately to each member's address.
Also, other buying incentives include the free product feature. Some products are shareable with friends who can bargain for a lower price. Every time a friend bargains for a product, the price will decrease. The user even has the chance to receive a free product if enough friends register for the bargain.
Allowing users to invite other buyers increases user engagement, which gives PDD its unique social shopping experience. Features such as group buying and free products enable the same function as shopping in real life.
2.   Duoduo Wallet
Over the years, this social commerce app has utilized third-party checkout methods like WeChat Pay and Alipay. These virtual wallets have given Pinduoduo more access to tech-savvy shoppers who prefer complete digital transactions.
In response to this demand and to tailor the needs of its user base, the company launched its digital wallet feature called Duoduo. Not only does it make purchases more convenient, but it also provides an added layer of security for consumers.
3.   Low-Margin Business Model
As a company targeting low-tier cities, PDD is adept at handling fluctuating market conditions. It leverages the distinct consumer habits of Chinese consumerism where they're eager to find package deals on small purchases like diapers and slippers but can readily splurge on luxury items like watches, jewelry, and cosmetics.
As previously stated, PDD smartly integrated the app with ways to form a buying team so consumers will be enticed to spend on bulk items. This model is not only cost-effective for the buyers but also eliminates the needed advertising and marketing expenses for brands.
How to effectively sell your products in the Pinduoduo App?
●     Set up a Shop on Pinduoduo
The process to start on the app is quite simple. There are five items that you need before applying: a Chinese Business License, an Organization Code Certificate, a Tax Registration Certificate, an Account Opening Certificate, and a Chinese phone number.
After obtaining the above items, directly apply on their official site and download the app for shop management. It takes about two working days for the approval. Once approved, you can open multiple shops with the same business and tax license.
●     Develop a Localized Branding Strategy
Always remember that your brand is a foreign company in a local platform. So, if you want Chinese consumers to purchase at your PDD virtual storefront, transforming your branding communication into local nuances and languages is of utmost importance.
Besides the fact that you must write down every content in the local language, localizing your brand means getting a Chinese domain name and hosting server for your website. On top of that, all your digital marketing strategies and aesthetics must align with the needs of the local industry.
Social media apps have high penetration within the Chinese market. So, if you want to generate visibility for your Pinduoduo shop, platforms like WeChat, Weibo, or Douyin can help you achieve this goal.
You can also implement search engine optimization strategies to boost your promotional content on platforms like Baidu, Shenma, or Sogou. Appearing on organic search results will help your brand gain credibility and authenticity in the eyes of local consumers.
●     Drive Sales by Collaborating with KOLs
As a social commerce channel, marketers can expect Pinduoduo to overflow with Key Opinion Leaders. These online personalities are often trusted by a large follower base and hold power over their purchasing decisions.
These influencers engage with their followers by creating engaging and valuable content like product reviews and live-streaming sessions. Collaborating with KOLs can give your brand or product a boost in reputation and credibility.
And because these people will represent your brand or product for a period of time, it's wise to work with ones who have a genuine interest in your offerings. Doing this also ensures that you're tapping into the right target audience for your business.
●     Conduct a Market & Competitor Analysis
Before you launch any campaigns to advertise your PDD shop, conducting a market study is a crucial step if you want a successful venture. This procedure allows new marketers to grasp the current trends and customer behavior within their industry. It'll also give your team more insight into resonating with their potential audience.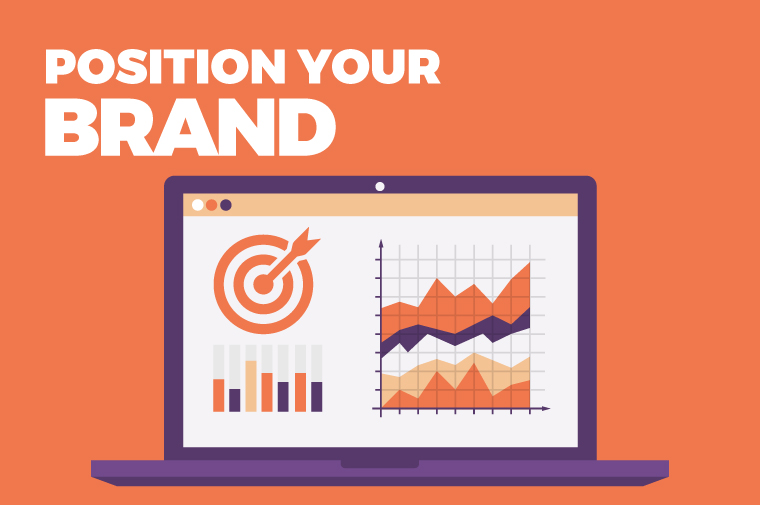 On top of that, keeping yourself updated on brand competitors is an effective strategy to determine where the business stands in the industry. It'll also save you time and money as these details will tell you which strategy is worth trying and which is a waste of time.
How much does it cost to do business in the Pinduoduo?
Depending on your brand's industry, PDD will require you to pay between 10,000 yuan and 50,000 yuan as a deposit fee. It's not considered a registration expense because it'll be used to refund unsatisfied clients. If your offerings don't have these issues, the money will eventually return to your account.
While it's true that PDD doesn't take commissions from sellers, remember that you're still obliged to pay a service fee for utilizing its e-commerce features.
Quick  Q&A
How many merchants are on Pinduoduo?
PDD has over 5.1 million merchants on its system marketing their products. The overall value of goods sold there has already reached around $154 million.
How does Pinduoduo work?
Pinduoduo is a Chinese e-commerce channel where users can participate in group buying, which typically involves pooling with others to purchase items at lower prices. It integrates social mechanisms that encourage shoppers to share deals with contacts, leveraging their social networks to drive down costs through bulk purchase discounts.
Your Social Commerce Partner in the Chinese Market!
Since Pinduoduo represents a unique target market of mostly low-income households with lower levels of education, there is still a huge growth potential for the platform to gain even more market share.
At Sekkei Digital Group, we understand the specific complexities of PDD–including consumer behaviors and the ever-evolving trends that shape it. With our extensive expertise in this niche, we offer you the avenue to unlock your brand's potential and secure a formidable position as a leading brand in the industry.
Whether it's crafting compelling advertising campaigns, utilizing social platforms, or collaborating with relevant KOLs, we have all the digital solutions you need. Contact us today, and let us help you navigate the intricacies of China's sneaker business scene.
References:
China's Pinduoduo, revolutionizing the online shopping
Duoduo Wallet, new mobile payment in China (by PDD)
How To Register Your First Pinduoduo Account?