Last Updated on November 15, 2023
As China evolves as one of the largest e-commerce markets in the world, digital ads also become an indispensable marketing tool to connect with modern Chinese consumers. Because of this, experts predict that digital ad spending in the country will continue to increase as the middle class develops a higher purchasing power.
The only problem is many foreign advertisers often fail to understand that the online advertising industry in China differs from the West. When promoting your business to the Chinese market, there are three critical factors to remember: the digital landscape is fragmented, China is dominated by mobile, and Chinese consumers change their preferences quickly.
How your brand appears and communicates its message to your target audience goes far beyond its content. The platform you use for your campaign can bridge the gap between the Chinese audience and your brand.
Here are some insights you need to know if you want to launch a successful advertising campaign in China.
How does advertising work in the Chinese Market?
Although China's advertising market ranks the second largest worldwide, it's crucial to determine what's feasible and effective to launch in terms of local campaigns. Remember that the Chinese market is notably dynamic, underscoring the importance of thorough research before venturing to ensure the best ROI.
Here are the elements of successful advertising campaigns in Mainland China that foreign companies should note:
Thorough reporting and insightful analysis
Evaluation of advertisement bidding prices
Delving into CPC/CPM metrics
Crafting high-quality ad copy
Skillful ad design and format
Like the rest of the world, Chinese consumers now have more access to the internet and mobile phones to make their shopping decisions online. Because of this, local and foreign brands have notably been exerting more attention to digitally advertise their products and services over the past decade.
Based on the data from Statista, you can see that the use of traditional advertising methods has decreased since 2017. As of 2023, 87% of overall advertising in China is dominated by online ads through search engines, popular social media platforms, and other digital channels. With the growing number of consumers online, industry experts expect it to grow to 90% by 2027.
Ad Spend Rate in the Chinese Advertising Market (Source: Statista)
4 Chinese Advertising Strategies For Foreign Brands
1.    Search Engine Advertising In China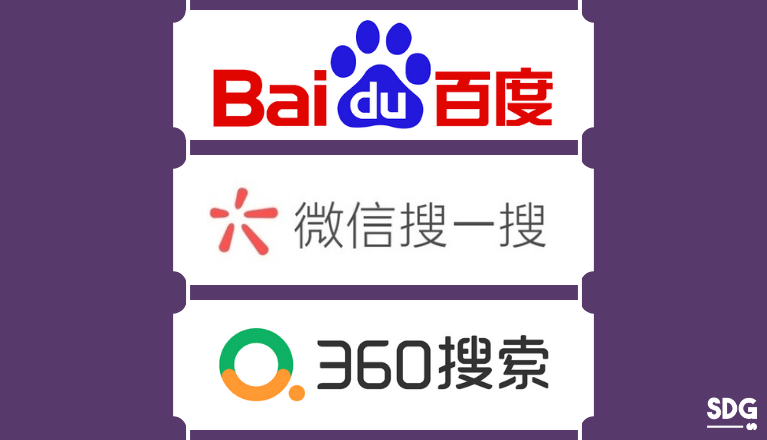 If there's one thing international businesses must know about Chinese consumers, it's the reality that they're savvy online shoppers who conduct research before purchasing a product.
This consumer behavior presents an opportunity for foreign companies to launch search engine ads and reach more consumers within the China market. Here are some options advertisers can consider:
●      Baidu Advertising
Like in the West, SEM and SEO marketing is one of the most effective ways to bring you conversions and customers, with Baidu being the king of search in the country.  When it comes to search engine marketing, most companies entering China should focus on Baidu Pay-Per-Click (PPC).
While search engine optimization can create organic traffic for brands, implementing search ads on Baidu helps your website landing pages to get on top of SERP for a specific keyword related to your niche. Besides texts, these Baidu PPC ads often include external links and other relevant details to user queries.
Foreign businesses can utilize a wide range of formats for Baidu advertisements. They can choose from in-feed ads and digital banner advertising to short videos and maps.
An advertiser can access the Baidu brand zone using an official service account. It secures online advertising placements on top of Baidu's search results and allows business sites to showcase products and services to a higher quality and targeted audience.
Baidu Ads maintains the largest SEM market share and works straightforwardly like Google Ads. However, other search engines might be more cost-effective for advertising your brand and reaching your target audience. See below for more search engine options.
●      Haosou
Haosou is backed by Qihoo 360, one of China's largest internet companies. Haosou offers a wide range of services, including news, websites, images, videos, Q&A, images, music and other services.
Example of an ad on Haosou redirecting to an APP
With mobile in mind, it was revamped and can be a cheaper alternative for running digital advertising campaigns. Haosou is often used for the workplace due to its security features and can be an ideal channel for B2B marketing.
●      WeChat Search
WeChat is one of the most essential parts of online marketing in China. As you may already know, it gives users access to various features, from WeChat Pay to taxi services.
However, many brands are unaware of how WeChat has the potential to become a significant player in the search engine market.
Example of WeChat Search Ads
The platform implemented a search function 2017, allowing users to search WeChat Moments, Mini-Programs, Articles, Stickers, Official Accounts and more.
All these marketing tools are accessible as long as advertisers have a WeChat official account for their business. It opens opportunities for brands to invest in multiple search results and allow users to shop for products directly through WeChat.
2.    Social Media Advertising in China
According to recent statistical data, over 13% of overall online advertising in China is allocated by brands to social media marketing campaigns. And with 1.03 billion users on these platforms, it's only sensible for brands to launch their advertisements through these online channels.
●      WeChat Ads
As previously mentioned, online advertising on WeChat offers diverse formats that cater to different marketing objectives and target audiences. Brands can create landing pages on these advertisement channels to take advantage of the platform's 1.2 billion monthly active users.
One of this platform's primary social media advertising formats is WeChat Moments Ads, which resemble native updates from friends but include a sponsored button in the corner.
These ads can take various forms, including image & text ads, video ads, basic card ads, card ads with options, and interactive ads. Through this, a subscription account can target users based on location, age, gender, interests, device type, and phone network.
Advertisements on WeChat can also include Public account ads in articles with formats like images, videos, banners, and in-text ads. Advertisers can also entice consumers within the platform through mini-programs that provide unique engagement opportunities through rewarded ads, banner ads, and pop-ups.
●      Little Red Book Ads
Often dubbed the "Chinese Instagram," Little Red Book (Xiaohongshu) is a lifestyle app mainly dedicated to social media users interested in beauty and fashion.
And while the platform thrives on user-generated content, it also supports paid advertising options for the Chinese market. However, unlike other platforms, brands can only choose two ad formats: pop-up and integrated ads.
True to its name, pop-up advertisement formats appear when users open the app. Meanwhile, integrated ads blend along with the organic content within the platform.
●      Douyin Ads
For brands keen on expanding their digital footprint in the Chinese market, taking advantage of Douyin's 750 million daily active users is a great strategy to begin with. The platform also provides a full range of highly targeted advertising options, from brand takeovers to in-feed and playable ads.
Foreign advertisers can choose between two paid ad delivery platforms integrated within Douyin, Dou+ and OceanEngine. Both options can help you run ads and provide different campaign analyses. The only difference is that OceanEngine is more geared towards e-commerce, while Dou+ is specifically designed for videos and livestreams.
●      Mafengwo
Mafengwo is the most influential travel social platform in China. It has over 1 million user-generated travel guides and favors data from user-generated content, including travel guides and blogs.
It has become the go-to platform for anything travel-related, significantly impacting Chinese travellers' decision-making. It's an attractive platform for marketing your brand if you want to do a travel or tourism-related digital advertising campaign.
●      Weibo
Sina Weibo stands as a powerful platform for the Chinese advertising industry due to its extensive user base and ability to effectively target a brand's followers and non-followers.
The diverse ad formats on Weibo cater to different marketing objectives, ensuring advertisers have the flexibility to craft campaigns that resonate effectively with their desired audience in China.
Fan Tunnels, for instance, is a Weibo digital advertising tool that enables brands to promote posts or accounts to non-followers, providing a cost-effective method for increasing brand visibility.
3.    Programmatic Advertising in China
The programmatic advertising landscape in China has seen gains in recent years. Baidu, Alibaba and Tencent (BAT) are playing a role in China similar to the one that Facebook and Google play in America.
Each tech giant has formed its own closed ecosystem, taking around 90% of the programmatic advertising market share. Therefore, ad campaigns cannot be fully optimized due to each platform's sharing restrictions.
This advertising type provides advanced targeting and some of the most desirable ad placements for foreign brands.
●      Baiyi Advertisements
This platform can enable your brand to run campaigns and be exposed to consumers through PC, Mobile and Television gateways. Your brand can receive targeted advertising on 600,000 third-party websites and software providers partnered with Baidu.
You can target users based on interests, keywords, device type, etc. Baiyi is an excellent choice for targeting users on desktops.
Example of Baiyi ads on Baidu Tieba
●      Tencent Ads
Tencent ads cover many platforms and might be China's most popular ad network. It can easily place ads, gather data on WeChat, QQ, Tencent News and Tencent Video, and offer deep insights into customers' personalized demands.
These are some of the most popular social media networking apps, making Tencent ads a very attractive opportunity for a foreign brand to market their products and services.
●      Alimama
Owned by Alibaba, Alimama focuses a lot on e-commerce and is widely known for Train Advertisements and Diamond Display Advertisements.
These Alibaba products enable brands to place advertisements at the top of Taobao or T-mall searches or a wide range of apps like Weibo, Netease and IQiYi. Alimama is an excellent platform for brands focusing on Alibaba-owned platforms.
Example of ads at the top of search results on Taobao
4.    Livestream Advertising in China
As live-streaming platforms became the medium for Key Opinion Leaders (KOL) to connect with their followers, it also became apparent that this marketing tool could help launch paid advertising campaigns more effectively.
As you know, KOLs hold an influence over the purchasing decisions of many Chinese consumers. Thanks to this, collaborating with these influencers using live-streaming channels will allow you to tap into their massive fan bases and generate real-time engagement between you and your brand's potential audience.
Livestreaming advertising on Tmall, Douyin and Weibo
Through the strategic integration of live-streaming and KOL partnerships, international brands can effectively captivate their target demographic, heighten their brand visibility, and solidify a lasting presence within the fiercely competitive Chinese advertising market.
How much does advertising cost in China?
Advertising costs in China vary across different platforms, each catering to distinct business needs and budgets. For example, Baidu's PPC advertising (Pay-Per-Click) has a required top-up cost of USD 1,000.
Weibo also operates with the same PPC format, but the platform's display advertisements require between $6 to $8 per CPM. Meanwhile, the ad spending range of banner adverts in WeChat ranges from $22 to $26 per CPM.
The advertising costs across various platforms depend on the formats they offer. Businesses must assess their specific needs, target audience, and budget constraints when choosing the most suitable advertising platform in China.
What are the advertising restrictions in China?
Unlike the rest of the world, the Chinese internet landscape is strictly mandated by the People's Republic of China (PRC) Advertising Law, particularly on specific product categories in online advertising.
Foreign companies must be mindful of these censorships, especially when creating content for advertisement campaigns. If not, advertisers may face penalties or have their websites and content restricted within the local digital landscape.
This regulation covers specific advertising campaigns on product categories like:
Medications
Drugs
Medical Tools
Pesticides
Veterinary Medications
Health-related Food Products
Formula Food for Specialized Medical Purposes
Other advertising media covered by relevant laws and administrative regulations
If you're unsure how to navigate these regulations for your advertising campaigns, seeking assistance from highly experienced digital marketing agencies can easily solve your dilemma.
Your Digital Advertising Partner In China!
The facets of Chinese digital advertising are much more vast and interconnected than simply posting an ad on a platform. But you shouldn't be deterred from exploring different channels and platforms as long as you understand each.
SDG's experienced team is here to guide you through every twist and turn, unlocking your brand's full potential and ensuring resounding success in this dynamic landscape.
We offer comprehensive services to empower your advertising strategies in China. From crafting compelling ad campaigns to harnessing the power of search engine platforms and social media channels, we provide the digital solutions you need to thrive. Contact us today to learn more!
References:
4 Smart Ways of Advertising in China
NEW MEASURES FOR ONLINE ADVERTISING IN CHINA: WHAT YOU NEED TO KNOW
B2B Advertising China: Cost, Registration & The Right Platform For You
Digital Marketing in China: What You Need to Know